The Pine Bushes, Groves, and Woods are lootable locations that provide lots of Pine logs, some Limestone, and lootable items in boxes or bags strewn on the ground. Each has their own threat level, with Pine Bushes having the lowest. Deer spawn in all three locations.
Pine Bushes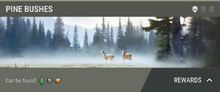 The Pine Bushes only have roamers, wolfs, and the occasional Fast Biter. There is usually 1-3 loot bags present, with 1-5 items in each box/bag. The loot spawned isn't the best, but its usually useful materials. The trees here are more spread out, which leaves a lot of open space. Rarely a Floater Bloater can spawn in these area.
Resources:
Pine Groves
The Pine Groves has more Fast Biters, with the added presence of Floater Bloaters. Usually, 1 or 2 Bloaters spawn, with a pretty low chance of a third. Roamers also spawn here, but in significantly less numbers compared to the Fast Biters and Bloaters. Toxic Spitters also spawn here, with usually 1-2 spawning. In extreme cases the Big One will spawn.There are a lot more trees in this area compared to Pine Bushes, and also more stone. The loot node spawn is also increased here, with 3-4 bags/boxes. The loot is pretty much the same, although vehicle parts spawn more frequently, with a higher weapons spawn chance as loot.
Resources:
Pine Woods
The Pine Woods have the highest zombie threat out of all 3 wood-providing locations. The Big One is known to spawn here, along with a higher count of Bloaters, Biters, and Toxic Spitters. The loot here is pretty good compared to the other two locations, with more vehicle parts and weapons. This location has pretty much the same amount of wood compared to the Pine Groves, but a bit more. This location should be for high level players, and avoided by beginners, because of the amount of zombies present here. The Big One that spawns here sometimes is very hard to avoid, and almost impossible to kill even with full high level equipment.
Resources:
Ad blocker interference detected!
Wikia is a free-to-use site that makes money from advertising. We have a modified experience for viewers using ad blockers

Wikia is not accessible if you've made further modifications. Remove the custom ad blocker rule(s) and the page will load as expected.