Description
Packs are bundles of items which can be exchanged for real cash. They can include Weapons, Armor, Items, Food and Coins. When you purchase a pack it is delivered to you in your Inbox.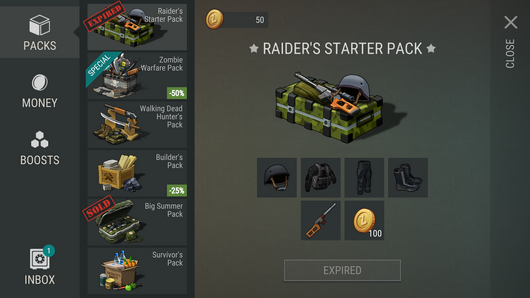 Available
The following packs are available for purchase in Beta v.1.10:
Coin Packs
Anti-heavyweight Pack
Armageddon
Assault Pack
Big Fall Pack
"Body Repairs"
Building Mopping-up Pack
Bunker Pack
Bunker Gruard Pack
Christmas Eve
Christmas Pack
Deactivation Pack
Demolisher's Pack
"Engineer"
Expert Pack
Giant Elimination Pack
Guest Pack
"Guns"
Halloween Box
Holliday Costume
"Humanitarian aid"
Life Support Pack
Military Pack
"Modified weapon"
Motorcyclist's Repair Kit
New Year Battle
Pack for Body Repairs
Pack of Special Units
Package No.1392010
Package No.7731
Quick Mop-up Pack
"Rare weapon"
"Raw Resources"
Resource Pack
Santa's Choice
To Bunker For Gifts!
Week Pack
Trivia and tips
Be careful! If die then you can lost all items in the inbox! Make sure no one will killing you then open. If die then you lost all! All your money!