Last Day on Earth: Survival is an upcoming survivor sandbox game developed by Kefir Games. The game is currently in Beta and is planned for released on iOS and Android. The release date has not been announced. This wiki is a collaborative resource for the game and is maintained by the contributions of the fans. Feel free to use our Discussions to discuss gameplay. All editors are welcome. Come join our community!
Help
•
Terms of Use
•
Wanted Pages
•
Administrators
•
Categories
The Last Day on Earth: Survival Wiki is a collaborative resource about Last Day on Earth: Survival that anyone can edit. We are currently editing over 458 articles, and 1,530 files, and you can help!
With the game in such early development stages, this wiki will help you keep up with the changes and additions that come with each patch. You'll find tips and guides for pros and beginners alike, stats for all your weapons/armor/enemies, and anything else you might need to make it through this particular Apocalypse. Since the game is still in early BETA, you can use a number of resources to stay current on patches, updates, and news. Check out the official Facebook and Twitter pages, or head on over to the subreddits r/LDESurvival and/or r/Lastdayonearthgame for access to more LDE:S goodness. You'll also find links to other Discord, Facebook, and Forum communities.
LDE:S is a mobile zombie survival game from Kefir! Studios, currently in the early stages of BETA. It's similar to experiences you'll find in PC games like H1Z1, DayZ, 7 Days, ARK, etc. You play as a lone survivor in a post apocalyptic wasteland, forced to scrounge for food and shelter in a hostile environment. While not as in-depth as its PC equivalents, LDE:S is a surprisingly deep game, even at this stage of development.
Since the game is still in BETA, and patch notes are often missing info/not given altogether, this site (and others) will be invaluable tools to help you keep up with the comings and goings of the game.
| | | | |
| --- | --- | --- | --- |
| Equipment | Crafting | Gameplay | Other Things |
DevBlog 10/14: Update 1.6.4.
Wonder what to do in these cold Autumn evenings? How about going to the post-apocalyptic world and continuing the fight for surviving? Moreover, new events are already waiting for you! Oh yes, - the update is now available!

https://www.facebook.com/notes/last-day-on-earth/devblog-1014-update-164/556392778031882/
DevBlog 27/09: Update 1.6.0.
The update is already available! Click on Update and start reading our Devblog. We are expanding the horizons, literally.

https://www.facebook.com/notes/last-day-on-earth/devblog-2709-update-160/549116192092874/
Update 1.6.0. Delayed
Message posted on Dev's Facebook page:
Hi everyone. Yesterday we wrote that we were planning to release an update today. However, it turned out to be more work than we thought, and it had to be postponed. We are very sorry for misleading you, but this confirms our decision not to specify the exact time of update launches.
The update will be next week.
Thank you for your patience, happy weekends!
Ask the Dev Team Q&A Round 5.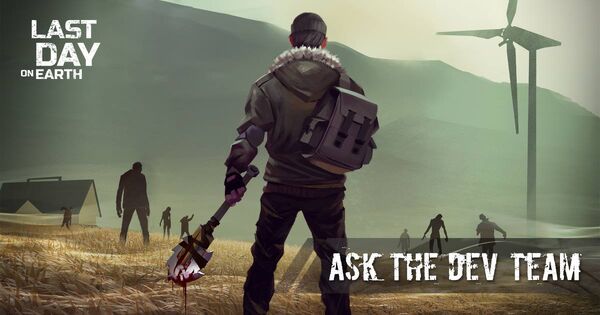 Loading RSS data...