Welcome to the Last Day on Earth: Survival BETA Wiki
This is the unofficial wiki resource for Last Day on Earth: Survival BETA, a survival sandbox game for iOS/Android. With the game in such early development stages, this wiki will help you keep up with the changes and additions that come with each patch. You'll find tips and guides for pros and beginners alike, stats for all your weapons/armor/enemies, and anything else you might need to make it through this particular Apocalypse.
Since the game is still in early BETA, you can use a number of resources to stay current on patches, updates, and news. Check out the official Facebook and Twitter pages, or head on over to the subreddits r/LDESurvival and/or r/Lastdayonearthgame for access to more LDE:S goodness. You'll also find links to other Discord, Facebook, and Forum communities.
What is LDE:S?
LDE:S is a mobile zombie survival game from Kefir! Studios, currently in the early stages of BETA. It's similar to experiences you'll find in PC games like H1Z1, DayZ, 7 Days, ARK, etc. You play as a lone survivor in a post apocalyptic wasteland, forced to scrounge for food and shelter in a hostile environment. While not as in-depth as its PC equivalents, LDE:S is a surprisingly deep game, even at this stage of development.
Since the game is still in BETA, and patch notes are often missing info/not given altogether, this site (and others) will be invaluable tools to help you keep up with the comings and goings of the game.
Game Info
Latest activity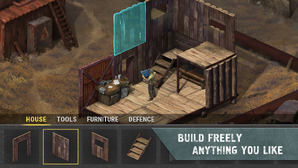 Ad blocker interference detected!
Wikia is a free-to-use site that makes money from advertising. We have a modified experience for viewers using ad blockers

Wikia is not accessible if you've made further modifications. Remove the custom ad blocker rule(s) and the page will load as expected.