Last Day on Earth: Survival is an upcoming survivor sandbox game developed by Kefir Games. The game is currently in Beta v.1.9.7 and is available on Android and iOS. This wiki is a collaborative resource for the game and is maintained by the contributions of the fans. Feel free to use our Discussions to discuss gameplay.
Help
•
Terms of Use
•
Administrators
•
Categories
•
All pages
•
Wanted Pages
•
Special pages
•
Categories
•
File list
The Last Day on Earth: Survival Wiki is a collaborative resource about Last Day on Earth: Survival that anyone can edit. Our wiki was created in May 29, 2017. We are currently editing over 547 articles, 26,034 edits, 1,865 files, and you can help! All editors are welcome. Come join our community!
| | | | |
| --- | --- | --- | --- |
| Equipment | Crafting | Gameplay | Other Things |
Survival Guide
•
List of tasks
•
Carlos Stash
•
Blackport PD
•
Winchester
•
Cell Key
•
Tank Top
•
Sergeant Card
•
Lieutenant Card
•
Captain Card
•
Inspector Card
•
Brawler
•
Explosive Zombie
•
Hungry Chomper
•
Jailbird
•
Riot Zombie
•
Zombie Officer
•
Destroyed convoy
•
Crooked Creek Farm
•
Ravager
•
Savage Giant
•
Rotten Yokel
•
Infected Bull
•
Scythe
•
Radio Tower
•
Weapon Modifications
•
Gunsmith Bench
Update 1.9.7
We celebrate your positive feedback on new events and locations and don't forget to keep working on other tasks. This update will touch equally important aspects of the game: clans, quests, Chopper and perks.
The update is not too big, so let's cut to the case right away - we added features of creating clans, joining them, admitting and rejecting new members. Time to unite with your fellows!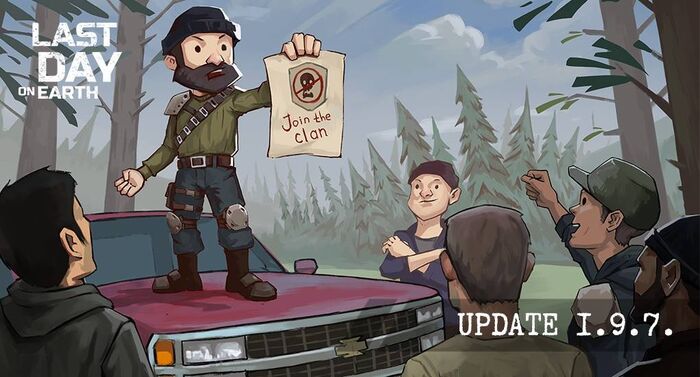 https://www.facebook.com/lastdayonearthgame/posts/764651933872631
DevBlog 08/31: Update 1.9.6
More events to the god of events! Every day, survivors get even stronger and braver. Just as Lewis and Clark, they explore new zones searching for the remains of the lost civilization and vital resources. They say raiders found an abandoned police station and are planning to take all weapons out. Ready to get into a new adventure?

https://www.facebook.com/notes/last-day-on-earth/devblog-0830-update-196/754600851544406/
Update 1.9.4
Hi! We come up with the v. 1.9.4:
- New time-limited event Destroyed convoy. Something shady happened for sure;
- Mods increasing automatic weapon stability are your bros now. Less misses!
- Skills upgrade sped up in most locations;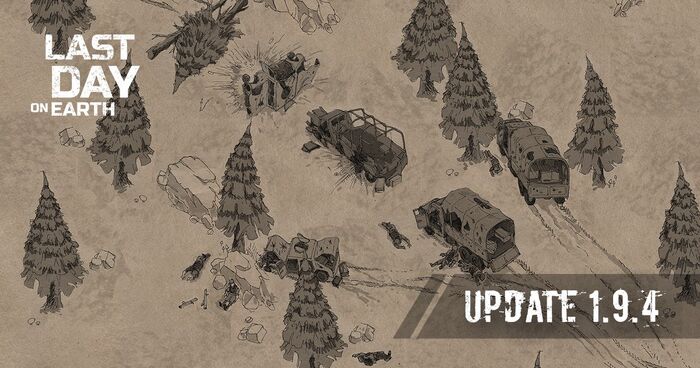 https://www.facebook.com/lastdayonearthgame/posts/734937010177457
DevBlog 08/01: Update 1.9.3
Hey! What do you think about the idea of going over to Granny's farm? Pies, fresh milk, summer sunshine, a little river… Maybe in another life. No granny has set her foot here for years. The last dweller of the farm is a grumpy old man that needs to be taught good manners.

https://www.facebook.com/notes/last-day-on-earth/devblog-0801-update-193/725151551156003/
DevBlog 23/07: Update 1.9.1
Hello survivors! Great news for warm lamp light fans. It's time to break silence and give way to real live communication.Now your trips to locations will become much more interesting. You'll be able to share great news of getting the desired gun or resource with anyone - you'll just have to friend.

https://www.facebook.com/notes/last-day-on-earth/devblog-2307-update-191/715150655489426/
DevBlog 07/06: Update 1.9
This update marks major rethinking of the weapon system customization. Anyone can hold a rusty Glock to keep enemies at bay, while crafting unique weapons is the top level of surviving.
https://www.facebook.com/notes/last-day-on-earth/devblog-0706-update-19/698047160533109/
With the game in such early development stages, this wiki will help you keep up with the changes and additions that come with each patch. You'll find tips and guides for pros and beginners alike, stats for all your weapons/armor/enemies, and anything else you might need to make it through this particular Apocalypse. Since the game is still in early BETA, you can use a number of resources to stay current on patches, updates, and news. Check out the official Facebook Last Day on Earth and Twitter LastDaySurvival pages, or head on over to the subreddits Reddit LDESurvival and/or Reddit LastDayonEarthGame for access to more LDE:S goodness. You'll also find links to other Discord, Facebook, and Forum communities.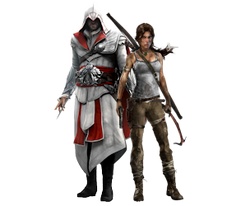 Action-Adventure Games
Go to these sites for info or for help with your own wiki!
ARK: Survival Evolved • Assassin's Creed • Bayonetta • The Binding of Isaac • Castlevania • Crackdown • Darksiders • Days Gone • Detroit: Become Human • Devil May Cry • Dragon's Crown • Fran Bow • God Eater • Grand Theft Auto • Gravity Rush • HITMAN • Horizon Zero Dawn • InFAMOUS • Just Cause • King's Quest • L.A. Noire • Last Day on Earth: Survival • The Last of Us • Legacy of Kain • Legend of Zelda • LEGO Dimensions • LEGO Games • LEGO Marvel and DC • Lightseekers • The Longest Journey • Mafia • Marvel's Spider-Man • Metal Gear • Monkey Island • Monster Hunter • Ninja Gaiden • No More Heroes • Ōkami • Prince of Persia • Red Dead • Senran Kagura • Sleeping Dogs • Splinter Cell • Subnautica • System Shock • Tomb Raider • Uncharted • Watch Dogs • Yakuza
Want your community included? See how!
See all of our Action-Adventure gaming wikis!