The in-game shop sells packs of everything at different times, shop usually changes weekly when update hits,so new items often available. The Developers Kefir have stated Beta purchases will be re-credited too your inbox an coins replaced in coin total they keep records very detailed so spend as freely as your personal situation allows and you wish. If game resets your items even those used completely will return. I personally have spent a couple hundred USD but had previously asked Kefir directly even though Dev blog on Facebook hinted at it.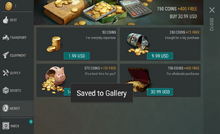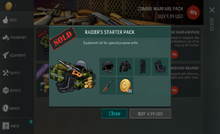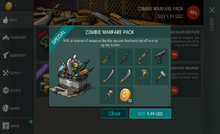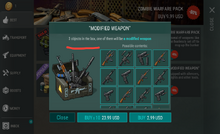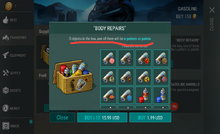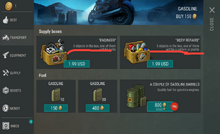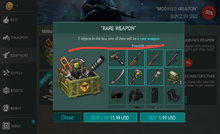 Items purchased from the shop will appear in your "Inbox " located in the shop menu.
Types of packages in shop
[[File:Screenshot 20170529-14080065636297680 84136.png|thumb|220x220px]]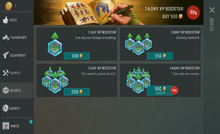 Best
Four packages that changes by time. Mostly Limited or popular offers.
Transport
Mechanic's Pack boxes - Engineer
Specialist's Pack boxes - Engineer
Fuel - Gasoline
Equipment
Suppression Pack - Weapon Ranged
Special Forces Pack - Armor
Assault Pack - Weapon Melee
Silenced Pack - Weapon Melee and Tactical Armor
Boosts
1 / 3 / 7 / 14 Days XP Boosters
Money
Coins that are used for buying packages mentioned above.
50 / 250+75F / 375+150F / 750+400F Coins F=free
Ad blocker interference detected!
Wikia is a free-to-use site that makes money from advertising. We have a modified experience for viewers using ad blockers

Wikia is not accessible if you've made further modifications. Remove the custom ad blocker rule(s) and the page will load as expected.