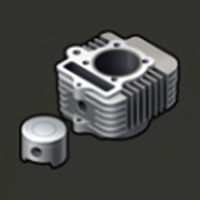 Description
"Essential parts for assembling vehicles."
Information
Engine Parts are rare components required for the finalization of vehicles and other items. They are some of the rarest items in the game and are usually found in Bunker Alfa loot boxes.
Found:
Random loot drop
Bunkers
AI Bases
Smugglers' camp (Not Available now)
AI Survivor (very rare)
Wrecked Ship (Not Available now)
Location provided by Specialist.
Hourly gift box in store. [Rare chance]
 Use:
Engine Part is used in the following finalizations:
Chopper - Phase 2 Finalization
ATV - Phase 2 Finalization
Acid Bath - Phase 2 Finalization
Electric Generator - Phase 2 Finalization
Ad blocker interference detected!
Wikia is a free-to-use site that makes money from advertising. We have a modified experience for viewers using ad blockers

Wikia is not accessible if you've made further modifications. Remove the custom ad blocker rule(s) and the page will load as expected.