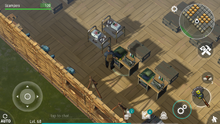 Workstations are a specialized type of Furniture that can be used to convert Items according to the Recipes listed in the Workstation.
As with Furniture, Workstations are primarily crafted, but can rarely be looted from AI Survivors and cannot stack in a slot.
Currently, it is only possible to place 2 of each Workstation type in your Home base.
List
Please update list as new items/information becomes available.
Note: Some workstations require Fuel in the form of Logs or Planks. See Fuel page for more information.
Pages in category "Workstations"
The following 20 pages are in this category, out of 20 total.