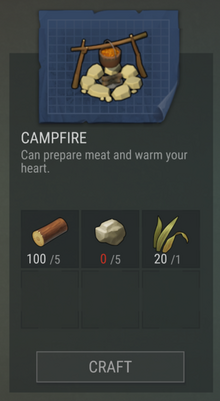 "Can prepare meat and warm your heart."
The Campfire is the first cooking station you'll unlock. You can use it to turn food into better food, or fuel into better fuel.
Crafting Requirements
Unlock:
Materials:
Furniture:
Placement: Ground (May be placed on any surface.)
Max: 2
Grid Size: 1x1
Recipes: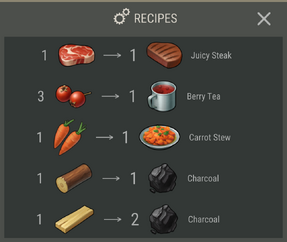 In order to work campfire needs to be powered with fuel.
Trivia:
You can overload the Campfire and Melting Furnace by putting in 20 fuel, and once one burns, put another stack in.
Ad blocker interference detected!
Wikia is a free-to-use site that makes money from advertising. We have a modified experience for viewers using ad blockers

Wikia is not accessible if you've made further modifications. Remove the custom ad blocker rule(s) and the page will load as expected.